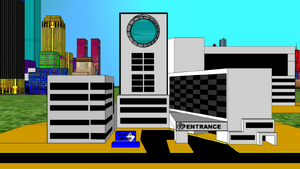 Shadow Muins Plaza
is the largest apartment building in Regular City from the animated series
Originular Show
. The building was located in Mainsoft Square next to the Dr. Ronald's restaurant. This building includes 243 apartment homes, 120 club dormatories and 3 penthouses. One penthouse was called the "Rockstar's Lounge Condominium" locates on the 12th floor - where
Bloanjay
lives on top of the building.
Shadow Muins Plaza 
provides computers including the operating system
Mytrosoft/Retrohard Winwakers 98
 for desktops and laptops including The Baltimores Family's computers. However, according to the building's policy of computing, the family's 1980 operating system
Ghiffersoft Saint Dunstans XP
cannot be permitted on Shadow Muins Plaza property, so they'll have to wait until 2003 for policy adjustment changes. This building has recieved $920 million for each one of these apartments. It includes the gymnasium, auditorium, Shadow Muins Cafe, game room and the large library. Shadow Muins Plaza considers as the "inside city" in town. The building carries more than a population of 1,756 people.
Address: 1439 Mainsoft Square
Website: www.shadowmuinsplaza.com
Phone number: 423-700-1959
Animated series: Originular Show
Designer: JPG Quaintel
Owner: Shadow the Hedgehog
Built: September 6, 1980